Child car seat fitting advice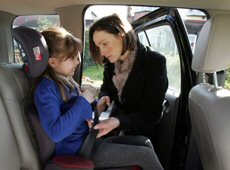 When choosing a car seat, it is important to get help and advice to ensure you select the correct seat for your child and car. Research shows that a staggering four out of five car seats are not fitted properly, often because parents do not get the correct information they need. We offer free, impartial advice on choosing and fitting your car seat, please contact us to book an appointment. We also offer an accreditation scheme for retailers so they can provide specialist advice when selling child car seats.
Child car seats and the law
In 2006 there was a change in law meaning that all children MUST use a car seat until they are 135cms tall (4ft 5") or reach their twelfth birthday. Children not using booster seats or booster cushions are more likely to be injured by their seatbelt in a crash. Seatbelts are designed for adults 5ft and taller. As children are smaller, a seatbelt alone will sit high across their tummy and cut across the neck. Using a booster seat or booster cushion, however, redirects the seatbelt to fit low across the top of the legs and off the neck, therefore reducing injuries.
Car seat centre
We offer advice to parents, grandparents and carers on the correct use and fitting of all child car seats. Not all car seats fit every type of car, so, before buying a seat, come along and find which one fits your car from our large selection. If you have a seat already then we can check it is fitted properly, to give you peace of mind. Please note, we do not sell seats, we can only provide advice. The service is free to anyone who lives or works in Bromley borough and who transports children in their car.To make an appointment please contact us
Retailer accreditation scheme
Through our retailer training scheme, shops across the borough can achieve 3 levels of accreditation (bronze, silver and gold) for their car seat fitting service. Employees who have achieved this accreditation can be identified by a badge.
Bronze indicates that the wearer is qualified to give basic car seat advice about weight groups, moving baby from one stage to the next stage, airbags, harness adjustment, ISOFIX (International Standards Organisation FIX - a system for installing car seats in a car) and the law.
Silver accreditation is given when our experts are satisfied that staff are able to deal with the practical fitting of car seats.
Currently, the shops in the borough who have bronze and silver accredited staff are:
Babybaby, West Wickham
Babycare, Petts Wood
Halfords, Orpington, Bromley, Shirley
Mamas and Papas, Orpington
Mothercare, Orpington
Gold accreditation is only obtained when staff are qualified to train other colleagues.