Child car seat advice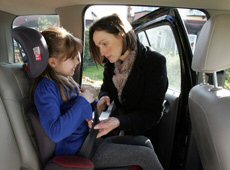 We offer free, impartial advice on choosing and fitting your child car seat. In addition, we offer training to local retailers to ensure you receive all the specialist advice you need.
Recent research shows that, despite the introduction of ISOFIX (International Standards Organisation Fix), almost two out of three car seats are still not fitted correctly.
Child car seats and the law
Since 2006, the law states that all children must use a car seat or high-back booster until they are 135cms tall (4ft 5") or reach their 12th birthday.
Seatbelts are designed for use by adults who are 5ft and taller. Without the appropriate child car seat to redirect the belt, the seatbelt alone will sit high across a child's tummy and cut across the neck with potentially life-changing consequences.
Car seat centre
Try before you buy
Not every car seat fits every car. Before buying a seat, come along and view our large selection of seats to find which one fits your car. We offer friendly help and advice to parents, grandparents and carers on the correct use and fitting of all child car seats.
Already have a seat?
We can check it is fitted properly to give you peace of mind and help keep your precious cargo safe.
Book an appointment
We do not sell seats, we can only provide advice. The service is free to anyone who lives or works in the London Borough of Bromley and who transports children in their car.
Book a free one hour appointment
Our car seat fitting centre is based at: Community Vision Children & Family Centre, Woodbine Grove, London SE20 8UX.
Retailer accreditation scheme
We offer three levels of training and accreditation to local retailers' staff for their car seat fitting service. Employees who have achieved this accreditation from the London Borough of Bromley can be identified by a badge.
Bronze accreditation
These shop staff are able to offer basic car seat advice including: weight groups and their benefits, airbags, harness adjustment, second-hand car seats, ISOFIX (International Standards Organisation Fix) and relevant legal requirements.
Silver accreditation
These shop staff are trained by the Bromley Council to fit all the car seats that their store sells, with particular attention to: buckle crunch, impact checks and general in-car safety.
Gold accreditation
As Silver and in addition Gold-qualified staff have reached the standard whereby they can train other staff members to Bromley Council standards.
Awarding accreditation
Accreditation is only given when the council are satisfied that candidates are aware of potential problems and possess the practical experience to fit seats unsupervised. Stores that received this training will display their accreditation in their window.