Governor training and support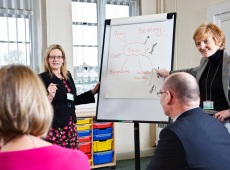 Octavo Governor Services, Bromley's training provider, provides a comprehensive professional development, training and support service to enable Governors to fulfil their strategic role and be at their most effective in securing school improvement.
The Octavo professional development and training for school and academy governors programme is designed to ensure that you have the support and training you require to fulfil you role as a governor and as a clerk.
Governors from governing boards purchasing the Octavo governor training and support package may attend as many courses and forums as they wish.
For those who have not purchased the training package individual governors and clerks can attend any of the courses/forums/briefing, but the school must approve attendance.
Additional training can be negotiated to suit individual governing boards.