About the Mayor and Deputy Mayor
Mayor of the London Borough of Bromley - biography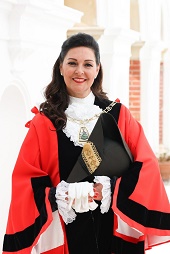 Councillor Hannah Gray of West Wickham Ward was elected Mayor of Bromley for 2022-23, at the annual meeting of the council on 18 May 2022.
Cllr. Hannah Gray was elected in 2014 to represent West Wickham Ward. She has lived in the borough since 2007, previously living in Dulwich.
Hannah grew up in East Sussex attending Buxted Primary School and then Uckfield Comprehensive School. From an early age Hannah developed an interest in music and dance. Alongside her general education she began her musical training, as a thoroughly untalented (6-year-old) piano student. However, she later discovered that all was not lost and that she did in fact have a reasonable singing voice and was subsequently awarded a place at the Trinity College of Music, London, which led to her becoming a professional Opera Singer. Although Hannah no longer sings for a living, you may be interested to know she did spend 8 years on a somewhat different stage as a specialist guest presenter on the TV shopping channel 'QVC'.
Hannah lives with her partner Cllr Colin Hitchins, and her two boys, Oliver and Charles. Hannah's Mother, Jean, is also a Bromley resident and completes the family group.
Hannah feels passionately about giving something back hence as a councillor Hannah has been a member of the Children, Education and Families Committee, Public Protection and Safety Committee, on the Fostering Panel and more recently has been the Small Business Champion for Bromley working alongside Cllr Morgan as his Executive Assistant.
Hannah was privileged to be appointed as Deputy Mayor in 2016/17 by Mayor Ian F Payne and in 2020/21 was honoured to be appointed Mayor of Bromley albeit at the height of the pandemic. During her incredible year she met many amazing volunteers, community organisations, businesses and youth groups in Bromley both online and occasionally, when allowed, in person. Hannah made maximum use of social media to ensure she was proactive and as supportive as possible in those unprecedented times.
If Hannah can find time for hobbies it is good food, good wine, good company and Jazz.
Mayor's parlour
Email: [email protected]
Tel: 020 8313 4354
Civic Centre, Stockwell Close, Bromley, BR1 3UH