About the Mayor and Deputy Mayor
Deputy Mayor of the London Borough of Bromley - biography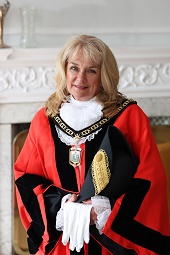 Councillor Christine Harris has lived in the borough for 30 years since 1992, previously living in Croydon from 1979 when she moved to the South from Scotland to work in a chartered accountancy practice in London. Christine feels privileged to be a LBB councillor since winning the 2018 by-election and honoured to be in the position of using her working life experience and knowledge to help London borogh of Bromley (LBB) continue to provide the best value for money for its residents. She feels her residents appreciate the prompt personal contact she provides.
While Christine's children attended school, she was a governor and PTA member of Pickhurst Infants and Juniors over a seven year period, followed by Langley Park School for Boys for 10 years, through the building of the new school. In 2016, she became involved in Beckenham Conservative Association (BCA) followed by becoming a councillor. She has chosen the committees that she believes directly assist her residents. In addition to this, she is Deputy Chair of BCA, Treasurer of Kesey & Eden Park Conservatives and Treasurer of the President's Club. Christine was Chair of the Langley Park Residents Association for 16 years and has just resigned as she has moved back to Pickhurst Lane. Christine lives there with her youngest son Joshua (23), while Elliott (27), lives in the Kelsey & Eden Park Ward.
Before her children were born, she was Group Chief Accountant of a large construction company. Whilst staying home with her boys, she built her own accountancy business around family demands. Christine now runs her accountancy business with over 60 clients from home.
Chrstine is a member of the Friends of: Croydon Road Recreation Ground, Kelsey Park and Harvington Estate, assisting in the persuit of various projects. In her spare time she enjoys tennis and swimming. Christine is looking forward to working with the Lady Mayor to raise funds for the chosen charities.