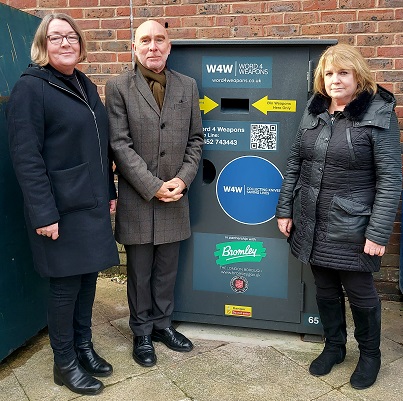 Knife crime levels in Bromley are low in comparison to other London Boroughs, and Bromley Council's Community Safety team want this and blade carrying statistics to continue on a downward trajectory.
Two knife amnesty bins have been installed in the borough to support this objective. The bins, located in Walters Yard, Bromley and Oakfield Road, Anerley, provide a safe and anonymous way of easily disposing of unwanted and found knives and bladed articles at any time of day. Anyone including friends, partners, parents, or individuals themselves can use the bins without making direct contact with the Police. The bins also provide signposting to information and advice regarding knife carrying by scanning a QR code on the side of the bin.
Along with partner organisation Word 4 Weapons, who maintain the bins, the Council believes that education is an important part of this initiative, which will help further reduce the number of weapons on the streets and the number of violent crimes further still.
Councillor Angela Page, Executive Councillor for Public Protection and Enforcement said: "We are committed to keeping Bromley the safe place that it already is and, though knife carrying in Bromley is nowhere near as prevalent as in other places, every knife off the street and every life saved makes these extra efforts worth it. One of the most important aspects of this initiative is to impart safety information and raise awareness of the risks of carrying a weapon while offering people a way to dispose of weapons safely."
Bromley knife amnesty bins are some of the latest to be installed, with 14 now in place across South London.
Picture shows: On the right, Cllr Angela Page, Executive Councillor for Public Protection and Enforcement, with centre, Sarah Newman, Head of Service for Community Safety, Licensing, Environmental and Domestic Regulation and Gordon Falconer, Interim Community Safety Manager, Environment and Public Protection.
Notes to editors:
Knife bin locations across Greater London
Knife Bin Locations - Word 4 Weapons
ENDS
For media enquiries, please contact Susie Clark, Public Affairs Executive, on
020 8461 7911 or email susie.clark@bromley.gov.uk