Personalised bricks for the bandstand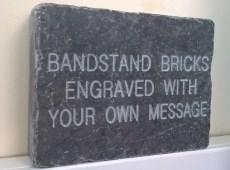 Please note that we have now halted sales of bricks until after the restoration works have completed.
You will still be able to purchase tickets for the launch party and/or donate to the project whilst the works are underway, and further purchases of bricks will be possible once the works have been completed.

---

The bricks will be made of a high-quality stone and look similar in style to the sample displayed.
What are the brick dimensions?
200mm wide x 150mm tall x 50mm deep.
How many characters can be engraved on the brick?
Each brick will contain a maximum of 48 characters. In this scenario, characters will be divided into three lines of a maximum of 16 characters, including spaces.
How can I personalise the brick I purchased?
After purchasing your bandstand brick you will have the opportunity to download a certificate to mark your purchase.
We have made contact with all those who purchased a brick to collect their personalised inscriptions. For those with whom we were unable to make contact, we have kept details of the record on file and will look to install these bricks at a later date.