Efforts to restore the historic bandstand where David Bowie performed at the Beckenham Arts Lab Growth Summer Festival in 1969 are continuing following the desperate news of his passing in January 2016.
The Bowie Bandstand which is Grade II listed, once restored, is planned to not only become a permanent and fitting tribute to a superstar musician admired and missed by millions, but hopefully a site where future legends might also one day cut their teeth as well. The council is working closely with Friends of Croydon Road Recreation Ground and other local partners, including businesses, to raise the funds still needed, which has already been backed by many supporters.
Donate
Supporters can make a donation using our donation form to make a contribution. Donors will have the opportunity to leave a memorial message and print a certificate to mark their gift.
For donations of £15 or over, Zizzi's have kindly offered to give donors 30 per cent off main meals on Mondays to Thursdays in their Beckenham branch. To claim this offer, supporters need to take a copy of the automated receipt they receive when making a donation.
Donations also accepted in the collection tins available in local shops in Beckenham: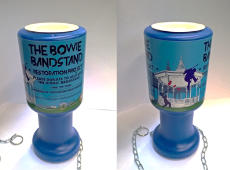 Wanted Music (415 Croydon Rd)
Paydens Pharmacy (399-401 Croydon Rd)
East St Barbers (403 Croydon Rd)
Bella Donata delicatessen (324 Croydon Rd)
Beckenham High Street:
Whitehorse pub
Fee & Brown coffee shop
Big Catch restaurant
Wimpy Bar
Red Boutique
Zizzi's (2 boxes)
Bricklayers Arms pub
Nineteen Fourteas tearoom
La Rascasse restaurant/bar
Dizzy's Diner
Marks & Spencer
Coughlan's Bakery
View the plans of the bandstand when it has been restored.
Buy a brick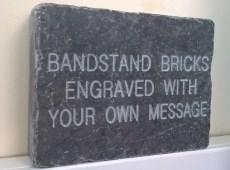 Supporters are being invited to purchase a personalised brick around the much-loved bandstand in Croydon Road Recreation Ground and be part of local history. The brick could be a personal tribute to remember David Bowie but the brick could also commemorate a loved one, celebrate a special occasion, or promote a business.
The bricks, which will be installed at the same time as the restoration of the bandstand will be a high-quality natural stone brick, which can be inscribed with a short message. They will form a circular pathway around the structure and expand the performing space.
The bricks can be purchased by individuals, families, groups or organisations and businesses. Proceeds from the sales of bricks will go towards the restoration and on-going enjoyment of the bandstand.
The scheme is being run in partnership with the Friends of Croydon Road Recreation Ground who have been actively fundraising along with other partners.
The bandstand bricks are £100 each and this includes the opportunity to leave a personalised message.
Find out more about the bricks planned for the bandstand circular pathway
Online payments
Buy your own personalised brick.
You can also purchase bandstand bricks in person at the Civic Centre, by telephoning the Landscape Helpdesk 0300 303 8658 or by sending a cheque made payable to the London Borough of Bromley to the Civic Centre, Stockwell Close, Bromley BR1 3UH.
The bandstand in Croydon Road Recreation Ground
Built by McCallum & Hope Ltd of Glasgow between 1880 and 1921, the elegant Edwardian bandstand has been the venue for many musical performances. One of Beckenham's most famous residents, David Bowie played at the bandstand at Growth Summer Festival in 1969 which was organised by the musician himself and The Beckenham Arts Laboratory.